The Abortionists - Fastaval 2019 Edition
70s feminist abortion activist larp by Jon Cole and Kelley Vanda
Chicago 1972. A group of feminist activists risk imprisonment to offer illegal abortions to impoverished people. In the act of empowering women, they discover new things about their own power as women. This scenario is a charged, bittersweet drama about three women struggling to bring their whole lives into alignment with their feminist politics.

Players will argue about feminist politics, counsel people seeking abortion, and conduct abortions using a metatechnique. Characters will have personal conflict and political solidarity in equal measure. Characters will come to the uncomfortable realization that people who they care about sometimes oppress them, and learn that even a feminist organization can be racist.
Players need no prior knowledge about living in the US, the historical period, or feminist politics to enjoy this emotionally affecting larp.
Edition Notes
This is the original version of the larp that premiered at Fastaval 2019, spelling errors and all. It will always be available PWYW, even after the authors release an updated and expanded version. The authors pledge to donate any profits from the sale of this larp to their local abortion assistance fund, Our Justice.
About the Larp
Number of players: 3 players and 1 facilitator
Play time: 5 hours
Player Type: You are more interested in your character's internal landscape than influencing the plot. You don't mind taking a break from your primary character to vividly portray an NPC.
Facilitator Type: You are comfortable setting scenes by reading from a card. You are confident ending scenes using your own judgement. You can keep a game on time by keeping one eye on the clock and another on pacing.

What You Get
- 151 pages of material, everything you need to play
- 3 nuanced characters with conflicting needs and desires
- 27 scenes, loaded with drama and political discussion
- References for each player so no one is lost
Awards and Testimonials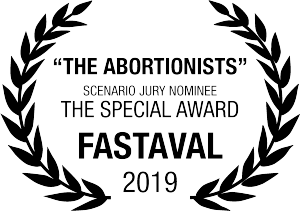 "The Abortionists is nominated for portraying a time, where gender norms were under dramatic upheaval, with empathy and historical insight. We gain an understanding for the women's fight for the right to abortion and equal rights in 70s Chicago. We are left both wiser about our past and reminded that we should not take freedom for granted."
– 2019 Fastaval Judges

"I gave [my friends] a detailed telling of my experience of The Abortionists and actually couldn't quite finish because retelling the experience was enough to move me to tears. It was probably the most intensive roleplay experience of my life and I'm really grateful I had the opportunity to play it."
– Harald Eckmüller, Host of 3W6 Podcast

"It's a good opportunity to become aware of what as contemporary Europeans we consider a given, and a window on a past that is not so far away, all of it supported by fluid and pleasant game mechanics."
– Claire Hugues, Playtester
"I guess you're thinking: A game about abortionists????? But ho-boy is that game a literal game-changer, I have no words for my emotions. It has been one of the if not THE most intense gaming experience of my life."
– Judith C Vogt, Author and Game Designer

Download
Click download now to get access to the following files:
Abortionists_ColeVanda_26-02-19.pdf
4 MB